In my previous post about Using Jasmine to Test JavaScript, I used an example to convert Length for different Units (LengthConverter.js). Next, I decided to go ahead and build a simple UI for the Length Conversion, using Twitter Bootstrap.
Version 3 of Twitter Bootstrap is different from the previous versions, as it is a mobile-first framework and can claim to be one of the best CSS frameworks for building responsive website designs. The reason I used it was because it would be really fast and easy to put a nice UI together.
To get started download the latest version from http://getbootstrap.com/ and use the basic template to start working with a minimal Bootstrap HTML5 document.
The main components of Twitter Bootstrap V3 are:
Fluid grid system that scales up to 12 columns (example)
CSS base for typography and UI components with consistent styles (docs)
jQuery plugins to build an interactive experience on the website (docs)
And honestly, the docs / examples on the site (provided by links above) are so good that you probably don't need any other reference tutorial.
So here is my Length Units Conversion UI built with bootstrap (http://manishchhabra.github.io/JasmineExample/)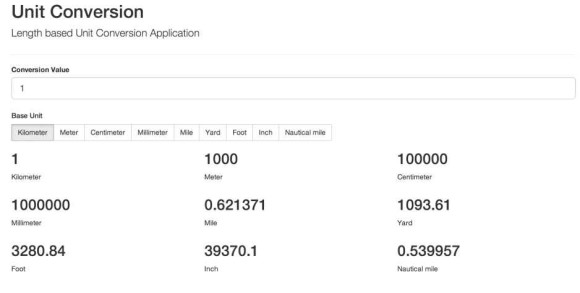 Source code: https://github.com/manishchhabra/JasmineExample